Hello everyone!
I just finished watching the new Netflix original TV show,
Anne With an E
, which is supposedly based off the beloved classic
Anne of Green Gables,
which I have read twice. Although I do like the 1985 version, I didn't LOVE it, so I decided to see if this would meet my expectations any better.
I know a lot of people have been wondering whether it's worth watching, so I thought I'd do a review of it. Let's get started!
[Just a note, this review isn't completely spoiler-free. This is for the people who are dedicated fans of the book and have been wondering about this version. It also has content warnings. Yes, I must put them in this review. Yes, 'tis a sad thing.]
CASTING
The casting was spot. on. Everyone was just so suited for their role. I loved Anne, actually, although I know many people didn't like her. The young lady who played her was a great actress -- she captured Anne's spirit and imagination perfectly.
Can I talk about Marilla and Matthew, though? Perfect! I never liked the Marilla in the '85 adaptation. I thought she would have been better to play Mrs. Lynde. But Geraldine James was exactly how I imagined Marilla to be. Thin, never a hair out of place, strict and stern-looking at first, but kind and loving once you get to know her. I didn't like Matthew at first, but he grew on me. I actually couldn't watch him . . . erm . . . die?? I left the room. :P
All the schoolchildren were great. Diana was sweet and devoted to Anne.
And all the side characters were perfectly cast, as well.
But the question still remains . . . what about Gilbert? The producers made a smart move choosing someone who looks a lot like the much-loved Gilbert from the 1985 movie, and he was pretty handsome and Gil-like, to be honest . . . but I still prefer 1985 Gilbert. I'm not
that
horrible.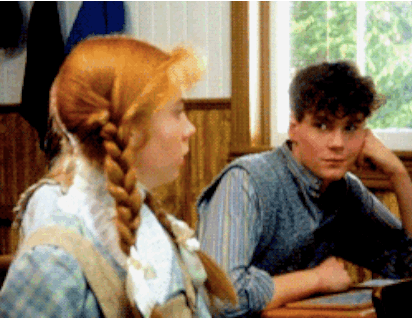 SCRIPT/PLOT
You know, this could have been such a perfect adaptation if they hadn't changed so much about the story. Many things happen that aren't from the book (Gilbert's father dies, Matthew has a love interest, Ruby Gillis's house is burned down), and the ones that are are highly dramatized.
They dramatized the "relationship" between the schoolteacher and Prissy Andrews. They dramatized Anne and Marilla's quarrel about the brooch. They dramatized the Cuthberts loosing money -- by a LOT, to the point where they have to sell nearly everything to keep Green Gables. You might think. "Well it's not that bad, right?" A couple of robbers jump Anne and take some of the money she got from selling her things at a pawn shop. The Cuthberts must take in boarders to get more money to keep Green Gables, and it's the robbers.
It leaves you off at a cliffhanger there.
Things like that really bothered me. I was also immensely disappointed, because I thought they were doing a season per book. Despite its flaws, I would have loved to see an Anne of Avonlea or Anne of the Island. But NOPE.
MUSIC
The music was beautiful. It was probably one of the most beautiful soundtracks I have ever heard in a TV show or movie, perhaps aside from The Boxcar Children.
It quite fit the mood of the show, as well. I was pleased with it, for sure!
CONTENT
On one of Anne's first days at school, Diana and Anne spot the teacher and Prissy Andrews touching hands or . . . something (not sure what they were exactly doing XD) and Anne says "I expect they're having intimate relations" and then goes on to say a bunch of crude things. I'm not even going to repeat them on this blog. She doesn't know they are, but we (the watchers) do. I was shocked when I heard this, as it belongs in NO Anne adaptation. Ever. I don't care how gruesome and "real" you're trying to make it.

They made Josephine lesbian. To be honest, I was kind of expecting this, but was still frustrated. It is only mentioned, though -- her "partner" had died. (Would same-gender relationships have been socially acceptable back then, either? I'm not sure.)

Anne experiences her first "womanly time of blossoming". Once again, I think this was supposed to make it more "real", but I just didn't want to hear about it.

Matthew never actually dies, in this season, anyway. He suffers a heart attack and is confined to bed, but he doesn't die. Yet. And, in fact, he almost commits suicide.
OVERALL . . .
Basically, I read that Anne With an E was going to focus more on her past life before Green Gables, and those hardships. But the thing is, L.M. Montgomery could have put a focus on that if she wanted to, but she didn't. I can't speak for her, but I think the reason why she didn't was because it's a children's novel. It's not supposed to be that dark. It's supposed to focus on a new and hopeful life at Green Gables. Exploring those topics is good, don't get me wrong, but it isn't something you expect or want from an Anne adaptation.
I liked the show enough to watch the second season, if they ever come out with one. The casting, music, and some of the episodes redeemed it for me.
You can decide if it's something you think is worth watching. I give it three stars out of five overall.
Thanks for reading, everyone! I hope you found this useful.
What's your favorite Anne book?
Are you planning to watch Anne With an E?
~Lydia~ <3